MBISS CH Mystique Wikked Wayz,HCT, AX, AXJ, NF
"Wikked"
5/13/2003 – 2/1/2018
Thanks to Deb Stein for these wonderful photos of Wikked taken at the Alamo Area Specialty 2/10/08.

Photo by Allana Hemenway

Photo by Allana Hemenway
February 7, 2009
Wikked won a major RWB at the AASSC Specialty. Special Thanks to Judge Charlotte Tull and Denise Hines for handling her.
February 8, 2009
Wikked won her final Major by going WB/BOS at the AASSC Specialty to finish her Championship. Special Thanks to Judge Susan Christie and Denise Hines for handling her.

Photo by Allana Hemenway
Wikked won a major RWB at the 2008 SSSCB Specialty. Thanks so much for this honor, Judge Suzanne Healy
Thanks to Peggy Demers for taking her back into the ring for me and showing her to the RWB.!
Wikked went to the Conroe KC Show on 12/1/07 and won WB/BOW/BOB/BBE/Group 4/BBE Group 1. Thanks to judges Carolyn Herbel and Dr. Don Gill for these wins. Thanks to Denise Hines for handling Wikked to the Group 4 Win.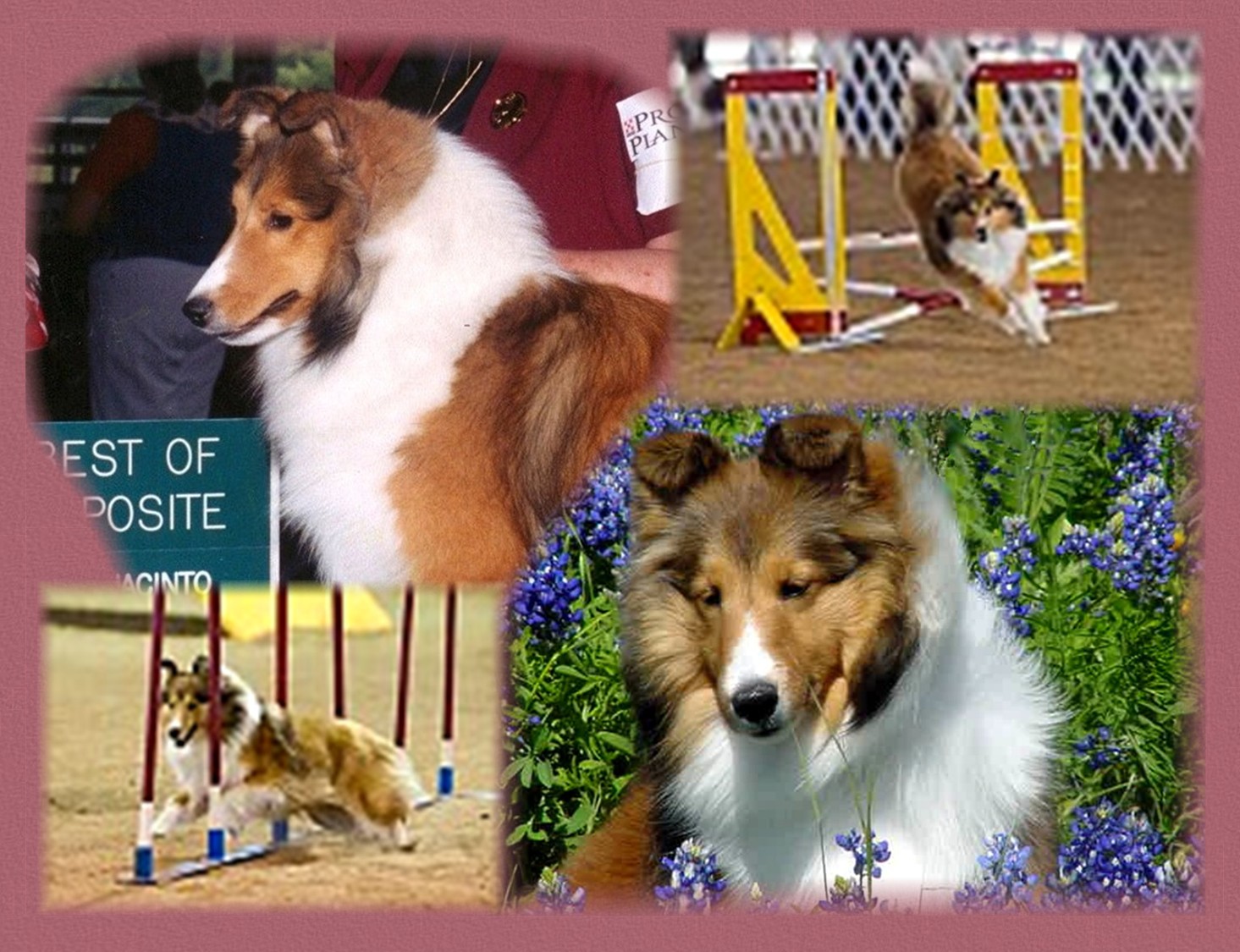 What can we say...we just love this little girl with the huge attitude! At the 2007 Reliant Park World Series of Dog Shows, Wikked picked up 4 more Championship Points by going Winners Bitch and Best Opposite Sex 2 out of the 3 days. Due to an armband mix up 2 of these points were awarded to her sister, Chanel. Thanks to the expert handling of Renee King, Wikked also acquired her Open Standard Agility Title at the same shows.
This girl excels in everything she tries. Only seeing sheep for the first time at the Ogden ASSA National and the second time at the St. Louis ASSA National, she passed her HCT test both times to acquire her AHBA HCT Title.

Wikked has her first Champion daughter, CH Mystqiue Bewitching Wayz, and is also the Proud Dam of Bronze GCH Mystique Wikked Pursuit, Lyly, Kilbie, Trey, Miles, Rocket, and others. Watch for these kids in the conformation and performance rings!
Special "Thanks" to the following judges for finding our girl among all the others.
| | | | | |
| --- | --- | --- | --- | --- |
| Date | Show | Win | Judge | Point(s) |
| 4/4/2004 | San Jacinto KC - Crosby TX | WB, BOS | Ms Beverly Capstick | 1 |
| 4/27/2007 | BKC - Beaumont TX | WB, BOS, BBE, BBEGrp 2 | Carl Liepmann | 1 |
| 4/29/2007 | BKC - Beaumont TX | WB, BOW, BOS | Dr. Ruby Hertz | 1 |
| 7/20/2007 | Houston KC - Houston TX | WB, BOS | Dr. Lee Anthony Reasin | 2 |
| 12/1/2007 | Conroe KC - Montgomery TX | WB/BOW/BOB/BBE/Grp 4/BBEGrp 1 | Mrs. Carolyn A Herbel, Dr. Donald Gill (Group) | 2 |
| 12/2/2007 | Conroe KC - Montgomery TX | WB/BOW | Dr. Donald Gill | 2 |
| 1/4/2009 | Nolan River KC - Glen Rose TX | WB/BOW/BOB | Mrs. Pat Evetts | 3 |
| 2/7/09 | AASSC - Boerne TX | RWB | Mrs. Charlotte Tull | |
| 2/8/09 | AASSC - Boerne TX | WB/BOS | Mrs. Susan Christie | 4 |
| 3/1/09 | SSCOA - Hutto TX | Best Of Breed | Mrs. Nancy Bodine | |
| 4/4/09 | SSCGFW - Aledo TX | BOS | Mr. Daniel Wheatcroft | |
| 4/5/09 | SSCGFW - Aledo TX | Best Of Breed | Mr. Al Bianchi | |


Health Testing
DMS - 002:01/023:01 AaBb - low risk for DMS
Pedigree
Whelped 5/13/2003
CH Ozark Crest City Slicker ROM ROMC

Am/Can CH Topshelf Tye One On NA

Topshelf Crown Victoria

CH Karefree Topshelf Day Trader

CH Barwoods Raise A Ruckus

CH Kylene Relentlessly Positive

CH Kylene Banned In Boston

Wikked

CH Cimmaron La Quest Marked Card

CH Duluta Fist Full Of Dollars ROM

Duluta Chardonay

BISS CH MACH Mystique Summer Breeze HT VCX AAD EAC EGC EJC TDI

BIS/BISS CH Karral Special Times CC

BISS CH Mystique Summertime Fun CD NA CGC TDI

Karral Penny Lane